UT-3100
Connectable with both USF-3100 and USF-W Booklet makers. Up to 48 sheets (80g/m2). Conveyer delivery tray (optional)
Features
High speed operation - Over 2,500 sets of booklet can be trimmed per hour. It is not necessary to decrease the processing speed in the booklet maker. Booklet making speed does not drag total work time any more.
High capacity - Up to 48 sheets of 80g/m2 paper can be trimmed. This can afford to trim heavy papers transported from 3 towards connected AeroCollate air suction collators.
Error signal interface - An error at one side stops the other machines as error message between Trimmer and UCHIDA bookletmaking systems can be exchanged.
Wide range of paper size can be trimmed - From CD Jacket size to SRA3 size paper can be handled.
Safety design - When safety cover is opened, machine automatically stops.
Bottom tray - When UT-3100 trimmer is linked up to UCHIDA collator + USF-3100 bookletmaker, collated papers to which the error occurred is ejected to the bottom tray of UT-3100 without staple, fold and trimmed. Also, papers under "Check" are delivered to the bottom tray of UT-3100 without staple, fold and trimmed.
---
Please visit the Resources section to download the brochure
U Booklet
With just the press of a button, your booklet is done!
The U-Booklet is a tabletop booklet making machine, that automates stapling / folding documents. Anyone can produce professionally finished booklets by easy operation, in a few seconds.
Easy Operation
The U-Booklet has an icon based electrostatic control panel with a built in LCD counter. It makes the machine versatile and its operation easy and intuitive. Various functions and settings can be selected by light finger touch.
Fast Production
The U-Booklet can produce up to 800 sets of professional booklets per hour. Since it requires no warm up time, you can save labour time and cost as soon as it's unboxed and turned on.
Compact Design
Thanks to its sophisticated design and small footprint, the U-Booklet fits in any working place such as office, small business, school, church, copy shop and print shop.
Features
Heavy duty staplers
The U-Booklet has heavy specially made heavy duty stapler heads, that can staple up to 16 sheets of 80gsm papers with fewer jam and error.
Easy staple loading
Reloading staples into a stapler magazine is easy and quick. Simply open the cover, pull the magazine, lift the plate and place staples.
Setting without any tool
The U-Booklet requires no tools to change staple head locations. Depending on what your job is, stapler head locations can be chosen from 5 slots.
---
Please visit the Resources section to download the brochure
USF - 3100
Staple cartridge type booklet maker, Full automatic connection with Uchida UC-1100 Collator, Non-stop booklet making function
Features
Realise the highest speed in this class
Realise the speed of 3,100 booklets per hour when using USF-3100 alone and 2,400 booklets per hour even when linked up to the UC-1100 collator. The production efficiency in booklet making work is thereby greatly improved.
Automatic recognition of paper size and setting of the paper guides
On placing standard size of papers on UC-1100, USF-3100 automatically recognizes the paper size so as to automatically set the positions of the paper guides. Even if linked up to the collator other than UC-1100, the paper guides are automatically set up just by pushing the paper size button on the control panel in the semiautomatic mode
Memory function for outer norm and special paper sizes
Capable of storing and registering up to 4 kinds of outer norm and special paper sizes at the maximum.
User-friendly and easy-to-see control panel
As the paper guide dimensions are displayed, it is easy to make a fine adjustment of the paper size.If a paper jam occurs, the location of occurrence is displayed on a jam map so that the paper can be immediately removed.
Prevents interruption of the work with an auxiliary ejection tray
If a feed error of a double feed or an empty feed occurs when linked up to the collator, a collated papers to which the error occurred is ejected to the auxiliary paper ejection tray below. Even if a feed error thereby occurs, the system continues to run without interruption.
Manual feed tray
When using a booklet maker alone, or in the case of the booklet making work for a small lot even if linked up to the collator, the booklet making work can be readily performed with the manual insertion slot in the upper part of the machine.
---
Please visit the Resources section to download the brochure
Aero - Collate
Compact and reliable air suction collator UCHIDA AeroCollate is newly announced by UCHIDA. UCHIDA AeroCollate exceeds all functions of previous UCHIDA air collator with mounting exclusive design criss-cross stacker and hybrid collation system.
Features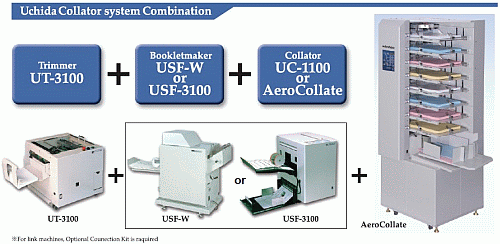 Hybrid air feeding system dramatically decreases power consumption up to 300W with 8 bins collation which relates to worldwide trendy keyword "ECO". Thus, AeroCollate directly means "Earth-friendly."
Extendable 3 towers would be useful for any kind of collating and finishing jobs as digital and offset finisher with max. 364mm (W) x 515mm (L) coated and uncoated papers.
LED lamp mounted on each bin visually notices errors and centering system effects saving time to move on-line booklet making systems.
Heavy Duty and User-friendly UCHIDA AeroCollate suits to any booklet finishing works required on printers.
Three tower connection
Centering system
High performance upper belt air suction feed
---
Please visit the Resources section to download the brochure